Single private ownership since 1978,1970 Ferrari Dino 246GT 'L' Series Berlinetta Chassis no. 0928 is available now at auction from Bonhams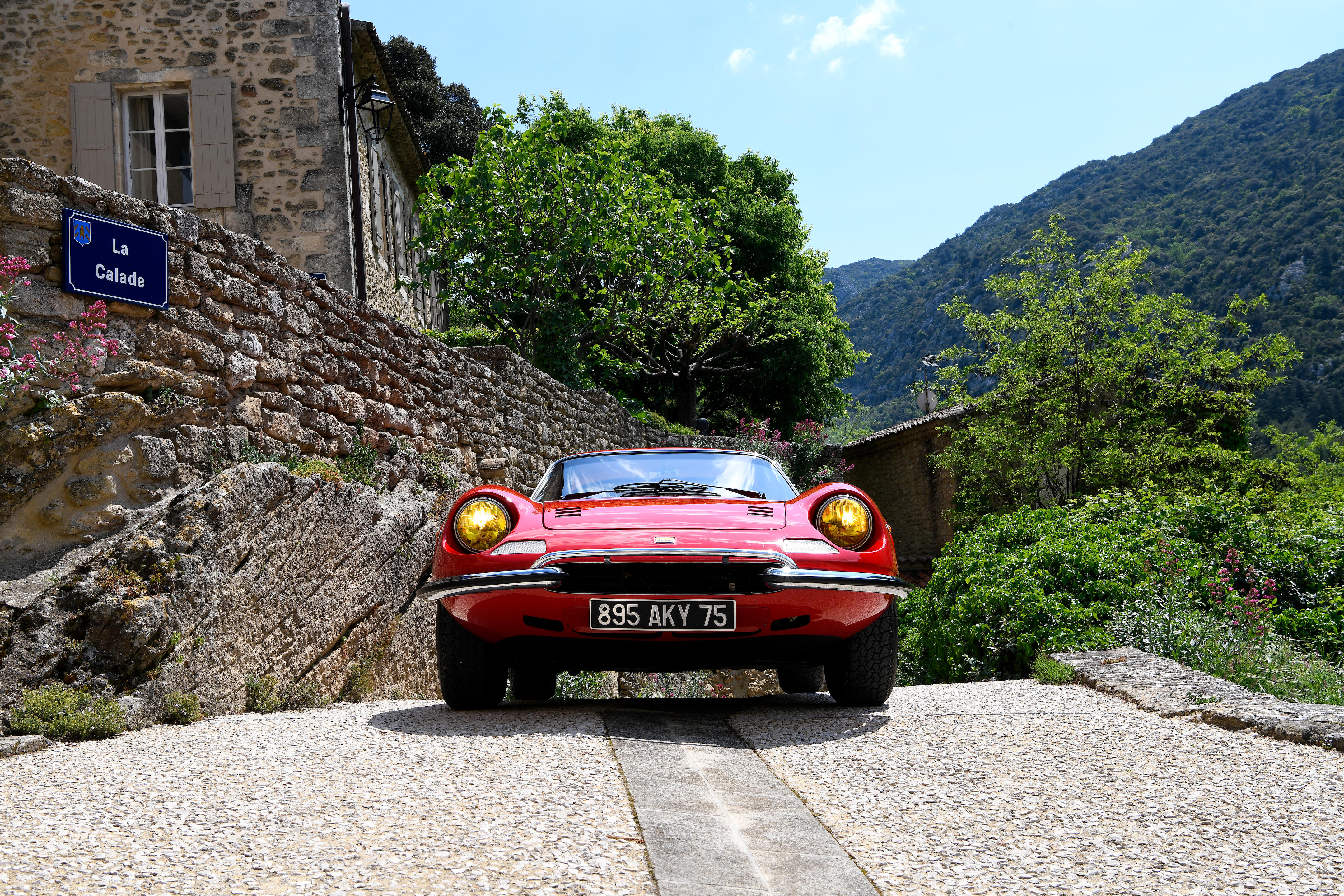 Type

Engine Size

Registration

MOT

Service History

Mileage

Colour

Gearbox

Unlisted

Fuel Type

Unlisted
Description
In the mid-1960s, Ferrari needed a production-based 2-litre engine for the new Formula 2 and conceived the mid-engined Dino to provide the necessary basis. The first of these 'junior' Ferraris the 206GT debuted at the Turin Motor Show in 1967. Building on experience gained with its successful limited-edition Dino 206S sports-racer of 1966, Ferrari retained the racer's mid-engined layout for the road car but installed the power unit transversely rather than longitudinally.

A compact, aluminium-bodied coup of striking appearance, the Pininfarina-styled Dino - named after Enzo Ferrari's late son Alfredino Ferrari and intended as the first of a separate but related marque - was powered by a 2.0-litre, four-cam V6 driving through an in-unit five-speed transaxle. The motor's 180bhp was good enough to propel the lightweight, aerodynamically-efficient Dino to 230km/h and while there were few complaints about its performance, the high cost enforced by its aluminium construction hindered sales.

A 2.4-litre version on a longer wheelbase - the 246GT - replaced the Dino 206 in late 1969. The body was now steel and the cylinder block cast-iron rather than aluminium but the bigger engine's increased power - 195bhp at 7,600rpm - was more than adequate compensation for the weight gain, as the Dino's top speed increased slightly to within a whisker of 240km/h. A Targa-top version, the 246GTS, followed in 1972. While not as fast in a straight line as its larger V12-engined stablemates, the nimble Dino was capable of showing almost anything a clean pair of heels over twisty going. Truly a driver's car par excellence.

As the first series-produced, mid-engined Ferraris, the early Dino V6s are landmark cars. The line that they founded would prove to be an immense commercial success for Maranello, production amounting to 2,487 GT coups and 1,274 GTS's by the time the model was deleted in 1974.

This rare and desirable matching numbers 'L' series 246 GT Dino is one of only 357 examples of the 1st series featuring the desirable and characteristic centre knock-off wheels, it was delivered new in France by the official Ferrari importer, Charles Pozzi. According to the Ferrari reference book 'raab-files' chassis '0928' was originally finished in 'Argento Auteil' with black leather interior.

First registered on 27th November 1970, this Dino was bought by the current vendor exactly 8 years and 1 month later in Paris straight from its 1st owner. Having kept the car ever since, the vendor has owned it for 42 years. The 246 GT Dino was professionally restored at no expense spared between 2002 and 2008 by Ferrari importer Charles Pozzi, under personal supervision of Mr. Bois, a total of approximately 160,000 was spent (majority of invoices are available) on this painstaking restoration. After its restoration Mr. Bois successfully presented the Dino on several Concours d'Elegance, the trophy's come with the car.

The car has been inspected just after restoration in 2008 by Mr. Christian Huet in 2008. His specialist inspection report, confirming the car's excellent condition is on file.

Since its full restoration, the car has hardly been driven but regularly maintained by Pozzi. It stayed in storage with a great Porsche collector who got it running regularly. The car comes with the aforementioned taxation report (2008), French Carte Grise dated 1978, restoration invoices, the original owner's manual, Ferrari pouch, leather toolkit and new spare wheel.
A rare opportunity to acquire a desirable European 'L'-series 246 GT Dino that has been in single private ownership for 42 years.


Un seul propritaire depuis 1978
1970 FERRARI DINO 246GT SERIE 'L' BERLINETTE
Coachwork by Pininfarina

Chssis no. 0928

Livre neuve en France avec uniquement 2 propritaires
Une des 357 exemplaires de la Serie 'L'
Compltement restaure (160.000 de factures) chez Ferrari Pozzi entre 2002-2008
Exemplaire a numros concordants

Au milieu des annes 1960, Ferrari avait besoin d'un moteur 2 litres de srie pour la nouvelle Formule 2 et conut la Dino moteur central pour servir de base. La premire de ces "baby" Ferrari - la 206 GT - fut prsente au Salon de Turin en 1967. Profitant de l'exprience acquise avec la Dino 206 S de comptition de 1966, Ferrari conserva l'architecture de la Sport pour la voiture de srie, mais en installant le moteur transversalement plutt que longitudinalement.

La Dino - d'aprs le nom du dfunt fils d'Enzo Ferrari, Alfredino - tait un petit coup compact dot d'une carrosserie en aluminium spectaculaire, dessine par Pininfarina, et allait devenir le premier modle d'une marque spare. Elle tait propulse par un V6 quatre arbres cames en tte de 2 litres, servi par une bote transaxle 5 rapports. Les 180 ch du moteur taient suffisants pour emmener la Dino prs de 230 km/h grce sa carrosserie lgre et arodynamique. Alors que ses performances ne soulevaient aucune critique, son prix lev, d sa carrosserie en aluminium, freina ses ventes.

Une version 2,4 litres sur un empattement allong - la 246 GT - remplaa la Dino 206, fin 1969. Sa carrosserie tait cette fois en acier et le bloc moteur en fonte d'acier plutt qu'en alliage, mais la puissance suprieure du moteur - 195 ch 7600 tr/min - suffisait largement compenser ce gain de poids et la vitesse maximale de la Dino dpassait lgrement les 240 km/h. Une version dcouvrable de type Targa, la 246 GTS, suivit en 1972. Bien que moins rapide en ligne droite que ses surs d'curie moteur V12, la petite Dino pouvait se montrer suprieure n'importe quelle concurrente sur parcours sinueux.

En tant que premire Ferrari moteur central, les premires Dino V6 sont des rfrences. La ligne dont elles sont l'origine s'avra un immense succs commercial pour Maranello la production atteignant 2 487 GT coups et 1 274 GTS quand le modle fut abandonn en 1974.

Immatricule pour la premire fois le 27 novembre 1970, cette Dino a t achete par le vendeur actuel exactement 8 ans et 1 mois plus tard Paris directement de son 1er propritaire. Le propritaire actuel la possde donc depuis 42 ans.

Elle fut ensuite entirement restaure entre 2002 et 2008 par l'importateur Ferrari Charles Pozzi et sous la supervision de M. Bois pour un montant total d'environ 160 000 (la majorit des factures sont disponibles). Aprs sa restauration, M. Bois prsenta avec succs la Dino lors de plusieurs Concours d'Elgance lors desquels elle remporta des trophes qui seront vendus avec la voiture.

Aprs sa restauration, la voiture a t inspecte par M. Christian Huet et son rapport d'expertise de 2008 confirmant l'excellent tat figure au dossier.

Depuis sa restauration complte, la voiture n'a pratiquement pas t conduite mais rgulirement entretenue par Pozzi.

Stocke et rgulirement mise en route par un grand collectionneur Porsche, la voiture est livre avec le rapport d'expertise susmentionn (2008), la carte grise franaise date de 1978, les factures de restauration, le manuel du propritaire d'origine, la pochette Ferrari, la trousse outils en cuir et la nouvelle roue de secours.

Il s'agit d'une rare opportunit d'acqurir une Dino 246 GT Srie L en version europenne et propose la vente par seulement son deuxime propritaire aprs 42 ans.
Auctioneer Information
Auctioneers Latest Vehicles